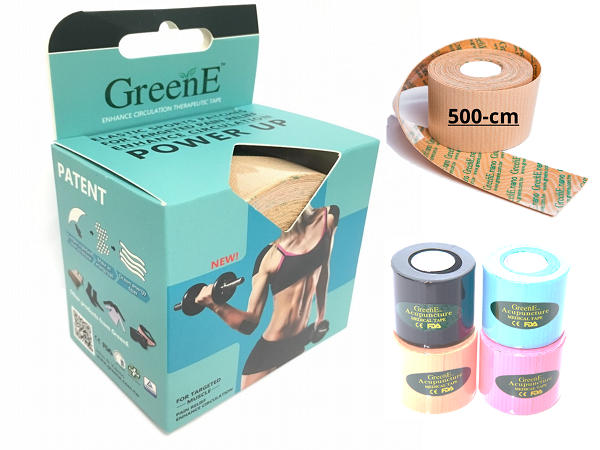 GreenE Pain Relief Tape (5.0-meter roll-pack) (Bio-FIR+MPF-Tech)
CLINICAL RESEARCH

OF PAIN RELIEF

NOT ONLTY PAIN RELIEF BUT ALSO FATIGUE EASE

4-WAY-SRETCH TECHNOLOGY AND MEDICINE-FREE FOR EASY USE

BIO-FIR FIBRE-TECHNOLOGY FOR PAIN RELIEF

INTERNATIONAL AFFIRMATIONS FROM PATENTS TO CERTIFICATES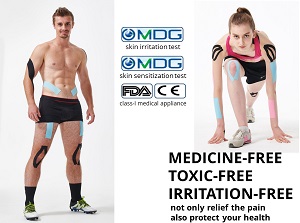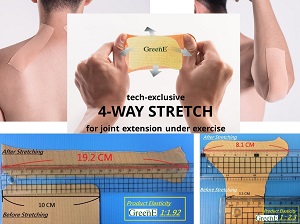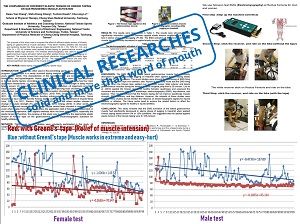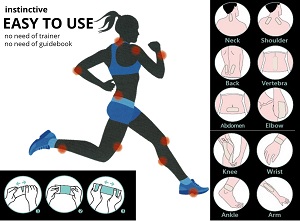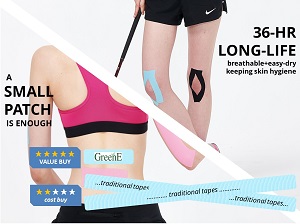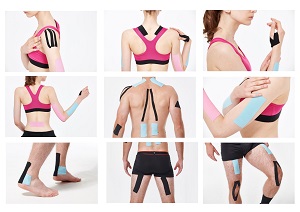 ID

AE822 Series
color
Size

S / M / L / XL
The clinical test and medical research

reports that the tape facilitates removing of discomfort.

This medicine-free, 4-way stretch to 192~230%, and medical-glue tape can patch on any joints of human body without stretching limits and last to 36 hours.

The Tape is made of fibres implanted by molecular-scale Ge/Ti/π generating far-infrared 93% purified within wavelength of 2-22 um, which helps the cell-resonance and the liquidity effect by de-bonding water micelle, and boosts circulation for pain relief.

Invention patent registered in US, China and Taiwan, medical device certificates issued by FDA and CE, ISO13485 and GMP certifications, etc..
Medical device Class-I certificate, FDA US since 2016

Medical device Class-I certificate, CE since 2016

Medical device Class-I No. 005431, FDA Taiwan

SNQ (National Quality Certification) medical appliance category, Taiwan 2017

ISO13485 certification since 2011

ISO9001 certification since 2011

GMP Taiwan since 2014

Invention Patent US 9,408,483 B2 since 2015

Invention Patent China since 2015

Invention Patent Taiwan since 2015

New-Type Patent Taiwan M496479 since 2015

CCMU, EMG(electromyography) Comparison of Gastrocnemius Muscle Activation, Taiwan, 2015

TSGH, Blood Flow & Speed Test, Taiwan 2017

MedGaea, Skin Irritation Test, Animal Clinic(Rabbit), Taiwan 2016

MedGaea, Skin Sensitization Test, Animal Clinic(Cavy), Taiwan 2016

TFST Far Infrared Emission Rate Test, Taiwan 2016

NDMC, 'Development of Novel Adhesive Sports Tape Modular to Facilitate Use of Discomfort', U.S. National Library of Medicine, 2019